Introduction
In recent years, Pilates Reformer has emerged as a popular and transformative exercise method that offers individuals of all fitness levels unique benefits. A Pilates Reformer is a specialized apparatus designed to help individuals improve their strength, flexibility, and body awareness. Let's take a closer look at the Pilates Reformer and see what it has to offer those embarking on this transformative journey.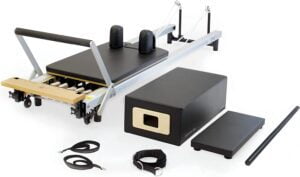 Defining the Pilates Reformer and Its Unique Apparatus
The Pilates Reformer exercises combine strength training, flexibility training, and coordination in a single exercise program. The Pilates Reformer apparatus is at the heart of this method, a versatile and customizable piece of equipment that facilitates a wide range of movements. In addition to a sliding carriage equipped with adjustable springs providing resistance, various attachments, and straps provide additional versatility. The use of this apparatus allows individuals to engage in a variety of exercises that target specific muscle groups and promote overall body conditioning.
Brief Overview of Pilates Reformer Popularity and Growth
This exercise method has evolved and gained traction worldwide over the years due to its effectiveness and holistic approach to fitness. It was developed by Joseph Pilates in the early 20th century. Pilates Reformer has become a staple in fitness studios, rehabilitation centers, and personal training sessions because it focuses on core strength, flexibility, and body alignment.
Due to its versatility and accessibility, Pilates Reformer is gaining popularity among individuals of all ages and fitness levels. This makes it ideal for both beginners and experienced athletes. Using controlled movements, resistance training, and breath awareness, this workout provides a comprehensive and balanced workout that produces noticeable results.
Moreover, Pilates Reformer's ability to offer a low-impact exercise form has made it appealing to a wide range of individuals. Consequently, it is a safe and effective method of rehabilitation or an effective workout for those with physical limitations or injuries. It can be adapted for a variety of physical limitations or injuries.
In recent years, Pilates Reformer accessibility has been enhanced by the availability of classes and training sessions both in traditional studio settings and online. Due to this growth, Pilates Reformer has become a convenient option for busy individuals. They wish to benefit from its transformative benefits.
As we explore the benefits of Pilates Reformer in greater detail, we will discover how it improves physical well-being and enhances mental and emotional health. Additionally, we will find that Pilates Reformer caters to individuals of diverse backgrounds and fitness levels. Invest in the Pilates Reformer today and embark on a remarkable journey towards a stronger, more balanced, and revitalized self.
Physical Benefits of Pilates Reformer
Pilates Reformer can have a profound impact on physical well-being. Through regular practice, individuals can benefit from the following: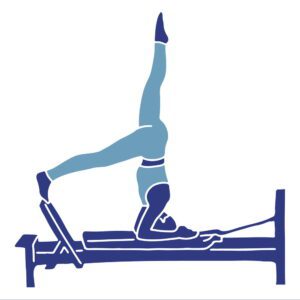 Enhanced Core Strength and Stability
Pilates has long been recognized as an effective exercise form that improves core strength, flexibility, and overall body stability. Pilates utilizes a specialized apparatus called the reformer, which enhances Pilates' benefits. The Pilates Reformer can significantly increase core strength and stability in your fitness routine by incorporating it into your routine.
A Pilates Reformer offers a range of exercises targeting specific muscle groups, with a particular emphasis on the core. The sliding carriage provides resistance as you push or pull against the springs, engaging your core muscles during each movement.
As a result of using the Pilates Reformer, deep core muscles, including the transverse abdominis and pelvic floor muscles, are activated. During regular practice on the Reformer, these muscles become stronger and more efficient, improving their ability to maintain stability, alignment, and balance. With regular practice, the muscles become stronger and more efficient.
Furthermore, Pilates Reformer exercises provide a wider range of motion and greater resistance than mat-based Pilates exercises. In addition to working the core muscles more intensely, this additional challenge engages other muscles, such as the arms, legs, and back, thus leading to the development of a well-rounded and balanced physique.
It is also important to note that the Pilates Reformer is versatile. It can be adjusted to accommodate individuals of various fitness levels and body types. You can customize the Reformer for your specific needs, whether you are a beginner or an advanced practitioner.
You can significantly enhance your core strength and stability by incorporating the Pilates Reformer into your fitness routine. Through its unique design, the apparatus targets and strengthens the deep core muscles essential for overall stability and balance. This results in a wide range of exercises.
Improved posture and alignment
Maintaining proper posture and alignment is crucial for overall health and well-being. In today's sedentary society, many individuals find themselves slouching and experiencing discomfort as a result of poor posture. Pilates Reformers, versatile and innovative exercise equipment, offer a highly effective solution to improving posture and alignment.
Pilates Reformers emphasize core strength and stability as one of their main benefits. By incorporating a sliding carriage and multiple adjustable resistance levels, the Reformer's design enables users to engage their core muscles. This feature allows them to maintain activation throughout their workouts. By focusing on core activation, the Reformer helps strengthen the deep abdominal muscles, the back, and the pelvic floor, which are essential for maintaining good posture.
Further, the Pilates Reformer facilitates the alignment of the spine and promotes the correct positioning of the body during exercises in addition to promoting spinal alignment. By gliding the carriage and using straps and springs, the body is challenged to maintain proper alignment through resistance. Through the exercises, users become more aware of their body position and learn how to engage the correct muscles to support a healthy spine as they progress.
The Reformer exercises also target the postural muscles, including the muscles of the upper back, shoulders, and neck. These muscles often become weak and overstretched due to prolonged sitting or incorrect posture. By using a combination of pulling, pushing, and stretching movements on the Reformer, individuals can improve their posture and correct imbalances by strengthening and toning these postural muscles.
A Pilates Reformer also promotes flexibility and mobility, which are essential for maintaining proper alignment. A wide range of exercises are performed on the Reformer that lengthen and stretch the muscles, improving joint mobility, and preventing muscle imbalances that can lead to poor posture.
Increased Flexibility and Joint Mobility
There are many variations of the Pilates Reformer, and it stands out as a versatile apparatus capable of significantly improving flexibility and joint mobility. Pilates Reformers provide a wide range of exercises that target specific muscles and joints, resulting in improved flexibility and mobility due to their unique design and adjustable resistance.
Pilates Reformers have a sliding carriage that moves along a track, offering resistance via springs and pulleys. The resistance is adjustable, catering to individuals of various fitness levels. This engages muscles in a controlled manner, enhancing flexibility without strain or overextension.
In addition to exercises that target specific muscle groups, the Reformer also offers exercises that target joint mobility specifically. Individuals can gradually increase their range of motion in joints such as the hips, shoulders, and spine through exercises that involve controlled movements and stretching on the Reformer. For those recovering from injuries or suffering from conditions such as arthritis, this is particularly beneficial. It promotes joint health and reduces stiffness.
In addition, Pilates Reformer exercises to promote core strength and stability, which in turn promotes joint mobility. Core muscles, including the abdominals, back, and pelvis, are essential for maintaining proper alignment and movement throughout the body. Strengthening core muscles can result in improved posture, balance, and overall body control, leading to improved joint mobility.
Heightened Muscular Strength and Endurance
Pilates is an effective exercise for improving posture and increasing flexibility, as well as for increasing muscular strength and endurance. By challenging your body in new and different ways, the reformer machine can increase muscular strength and endurance.
One of the key benefits of Pilates reformer exercises is the ability to work your muscles in multiple positions, angles, and ranges of motion. This allows you to target specific muscle groups more effectively. For example, the reformer machine can be used to perform exercises that target your glutes, hamstrings, and quadriceps. The exercises build lower body strength, which is necessary for running, jumping, and climbing stairs.
As well as building muscle strength, Pilates reformer exercises can also improve muscular endurance. Muscular endurance is the ability to perform repeated movements for an extended period without fatigue. Pilates reformer exercises are performed in a high-repetition, low-impact format which can enhance muscular endurance. You may be able to improve hip flexor and thigh endurance by performing leg circles on the reformer machine.
Efficient Full-Body Conditioning
As well as providing a complete full-body workout, this versatile piece of equipment enhances Pilates workout efficiency.
In addition to its ability to engage the entire body, the Pilates Reformer offers several other advantages. Unlike traditional gym equipment that is often used to isolate specific muscle groups, the Reformer requires integrated movements. It recruits multiple muscle groups simultaneously. In addition to developing a strong and balanced physique, this holistic conditioning approach enhances overall body awareness and coordination.
With its adjustable springs, you can easily modify the resistance to suit your strength and progress gradually as you build endurance and muscular strength. Your workouts will remain challenging and effective with this versatility, preventing plateaus and stimulating muscle growth.
Additionally, Pilates Reformer exercises emphasize core stabilization as well as strength and flexibility. To maintain control and balance while exercising, a stable core is required to maintain control and balance, effectively strengthening the deep abdominal muscles. A strong core improves posture and reduces the risk of injury during everyday activities and sports.
Moreover, the Pilates Reformer is a low-impact exercise method, which is gentle on the joints while still providing a challenging workout. It improves muscle strength and joint stability without placing excessive stress on vulnerable areas. Therefore, it is appropriate for individuals recovering from injuries or those suffering from joint conditions.
With its versatility, integrated movements, and emphasis on core stability, the Pilates Reformer provides an efficient and effective full-body conditioning experience.
Targeted Muscle Engagement
A key advantage of Pilates Reformer workouts is its ability to target numerous muscle groups. By activating the powerhouse and strengthening the core, glutes, and legs, Pilates Reformer workouts enhance overall physical well-being and muscular strength.
Engaging the Powerhouse – Activating the Core Muscles
Pilates' core principle is to engage the powerhouse by activating the core muscles. The Pilates Reformer further enhances this principle by providing a versatile and dynamic apparatus that enhances powerhouse engagement.
Powerhouses are the central components of the body that are responsible for strength and stability. The deep abdominal muscles, lower back muscles, pelvic floor muscles, and glutes are included in this structure. By activating these muscles, a strong and stable foundation is created, which facilitates efficient movement and alignment.
There are various spring-loaded attachments on the Pilates Reformer. They provide resistance and assistance, in addition to a sliding carriage that moves back and forth. Through this resistance, the core muscles are challenged to engage and stabilize the body during the exercises. There are various pulleys and straps on the Reformer that allow for a wide range of movements, focusing on the core at the same time.
In addition to strengthening the core muscles, Reformer exercises require precise control and coordination of the body. As the powerhouse is constantly activated as a result of the spring resistance, stability, balance, and control are promoted as a result. In addition, the Reformer can be adjusted for progressive resistance, meaning that as the core muscles become stronger, the springs can be adjusted to create a higher level of difficulty.
Strengthening the back, glutes, and legs
Back muscles
Strengthening of the back muscles is one of the significant physical benefits of Pilates Reformer. Reformer exercises improve flexibility and strength in the back by focusing on spine alignment and elongation. In addition to activating the deep intrinsic muscles, the erector spinae, and muscles of the upper and lower back, the controlled movements and resistance offered by the Reformer work to activate the entire spine. Practicing regularly can alleviate back pain, correct imbalances, and improve spinal health.
Toning the glutes
Toning and strengthening the gluteal muscles is a major benefit of Pilates Reformer workouts. These exercises target both the large gluteus maximus and the smaller gluteus medius and minimus muscles, engaging the glutes from a variety of angles. On the Reformer, movements such as bridging, lunging, and side-lying engage these muscles and challenge them, resulting in improved muscle tone, improved hip stability, and improved posture. It is important to note that well-developed glutes not only contribute to an aesthetically pleasing appearance but also play an important role in the support of the lower back and hip joints.
Developing strong legs
The Pilates Reformer provides an excellent platform for strengthening the legs. By incorporating movements such as leg presses, lunges, and squats, Pilates Reformers strengthen the quadriceps, hamstrings, calves, inner and outer thighs, and calves. As a result of its springs, the Reformer provides a challenging, yet controlled environment for building leg strength and endurance. The exercises are designed to work multiple muscle groups simultaneously, enhancing coordination and balance while toning and sculpting the legs at the same time. Individuals with stronger leg muscles can perform daily activities more easily, resulting in improved overall functional fitness.
Developing strong and toned arms, shoulders, and chest
Arms: Sculpting Strength and Definition
 1. Arm Circles:
Among the Pilates Reformer exercises targeted at the arms is the Arm Circle exercise. Lying on the carriage, individuals hold on to the straps while rotating their arms in a controlled and precise manner. As a result of this exercise, the arms are strengthened and defined, as well as strengthening the biceps, triceps, and shoulders.
 2. Chest press:
Pilates Reformer Chest Press exercises target the pectoral muscles of the chest while also strengthening the arms and shoulders. By pushing the carriage away from the body using the straps or handles, individuals work against the resistance of the springs, effectively toning the chest muscles and strengthening the arms.
Shoulders: Enhance stability and mobility
 1. Shoulder Bridge:
As well as strengthening the core and glutes, the Pilates Reformer Shoulder Bridge exercise engages the shoulders as well. To create a bridge-like position, individuals lie on the carriage with their feet on the footbar and press the carriage away while lifting their hips. As a result of this movement, the shoulder muscles such as the deltoids and shoulder muscles are activated, which enhances shoulder mobility and stability.
 2. Rowing Series:
The Rowing Series is a set of exercises performed on the Pilates Reformer. It involves pulling the straps or handles towards the body, and imitating rowing movements. This series engages the muscles of the upper back and shoulders, promoting proper posture, and developing strength and endurance in these areas.
Chest: Building Upper Body Strength
 1. Chest expansion:
Pilates Reformer Chest Expansion targets muscles in the chest and upper back. Individuals create resistance by pulling the carriage toward them by holding onto the straps or handles and extending their arms forward. In addition to working the chest muscles, this movement promotes strength and toning.
 2. Flying Eagle:
The Flying Eagle exercise focuses on the muscles in the chest and shoulders. In this exercise, individuals lie face-down on a carriage. They hold onto the straps or handles and perform controlled movements, simulating a flying motion. This exercise helps strengthen the chest and shoulders, while also improving balance and coordination.
Mental and Emotional Benefits of Pilates Reformer
In addition to its physical benefits, Pilates Reformer has a profound impact on mental and emotional well-being. In particular, regular practice of Pilates Reformer can provide the following benefits:
Improved Mind-Body Connection and Body Awareness
This exercise method promotes physical strength, flexibility, and body awareness by combining controlled movements with specialized equipment. As well as helping in achieving a toned, balanced physique, Pilates Reformer plays a vital role in improving body awareness and the mind-body connection. Here are some tips on how Pilates Reformer can enhance these skills.
Precision is a core principle of Pilates Reformer. The exercises are performed with careful attention to alignment and movement execution. By consciously engaging specific muscle groups and maintaining proper form, individuals develop an increased sense of body awareness. Their body positioning, muscle engagement, and overall movement patterns become more apparent to them.
The Reformer machine itself contributes to the enhanced mind-body connection. It provides resistance through a system of springs and pulleys. This requires individuals to exert control and concentration to execute each exercise smoothly. As individuals learn to coordinate their breath, movement, and muscle activation in a synchronized manner, this focus on controlled movement enhances the mind's connection to the body.
It is also common for Pilates Reformer exercises to involve working against the resistance provided by the machine, which promotes strength and flexibility by challenging the muscles. As individuals become more aware of the sensations in their muscles, joints, and spine during each exercise, they develop a deeper understanding of their body's capabilities and limitations. By increasing body awareness, individuals can make adjustments in real-time, ensuring optimal alignment and movement efficiency.
It is also important to note that Pilates Reformer emphasizes breathing, enhancing the mind-body connection. Incorporating deep, controlled breathing into each movement promotes relaxation, concentration, and focus. The ability to stay present and connected with the body is enhanced when individuals synchronize their breath with movement.
Reduced Stress and Anxiety Levels
Stress Relief
Because Pilates Reformers are low-impact forms of exercise that can be tailored to the individual's needs and abilities, they are highly effective in reducing stress and anxiety. As a result, it can be practiced by people of all ages and fitness levels, as well as modified to suit those with injuries or chronic conditions. The accessibility of Pilates Reformer makes it a great choice for individuals seeking stress-relieving activities that they may enjoy on a regular basis.
Boosting Mental Health
In addition to physical benefits, the Pilates Reformer can also improve mental health. Controlled movement and breathing are helpful to calm the mind and reduce stress levels. By slowing down and deliberating the movements, practitioners can focus on their bodies and breathing and forget about external stressors.
Enhancing Body Awareness
Pilates Reformer emphasizes alignment and proper form, which enhances body awareness and self-confidence. To become more relaxed, practitioners become more adept at identifying areas of tension or discomfort within their bodies and releasing them. This leads to a greater sense of well-being.
Building Community and Support
As Pilates Reformer is often practiced in small groups or one-on-one with an instructor, a sense of community and social support can be provided. Individuals who may feel isolated or lonely, resulting in feelings of stress and anxiety, may find this particularly beneficial.
In general, Pilates Reformer is an effective tool for reducing stress and anxiety. The low-impact nature, customization, focus on controlled movements and breath work, and social support all contribute to a sense of calm and relaxation that extends beyond the studio and into everyday life.
Mindful Movements for Enhanced Relaxation
The Pilates Reformer focuses on controlled and mindful movements, which is one of the primary ways in which it enhances relaxation. Pilates Reformer emphasizes the mind-body connection by promoting fluid and precise motions, as opposed to high-impact exercises. Performing these deliberate movements allows individuals to become more aware of their bodies, resulting in a greater sense of relaxation and increased awareness of tensions and stresses within the body.
By incorporating springs and straps into the Reformer, the machine creates resistance and support, facilitating a wide range of exercises that promote relaxation. The smooth gliding motion of the Reformer creates a gentle and low-impact workout experience, minimizing joint and muscle stress. This makes it ideal for individuals seeking a safe and relaxing exercise method that nurtures their overall well-being.
Breathe and Relax
It is also important to note that Pilates Reformer's focus on breath work contributes to its relaxing effects. It is essential to practice proper breathing techniques in Pilates to facilitate proper movement and engage the core muscles effectively. During Reformer exercises, individuals can experience a greater sense of calm and relaxation by incorporating focused breathing techniques during Reformer exercises. Deep diaphragmatic breathing activates the body's parasympathetic nervous system, which is responsible for "rest and digest."
Through mindful movements, the use of the Reformer machine, breath work, and the focus on the mind-body connection, individuals can experience heightened relaxation, improved fitness, and a greater sense of well-being. Pilates Reformer provides a nurturing and holistic exercise experience that can transform both your body and mind, leaving you feeling relaxed, rejuvenated, and centered, regardless of whether you are a beginner or an experienced practitioner.
Boost Self-confidence and Body Image
Boosting Confidence and Body Awareness
In addition to boosting self-confidence, Pilates on the Reformer also promotes body awareness. Individuals can perform a wide range of exercises that target specific muscle groups and improve posture while using the reformer. Through increased awareness of their bodies, practitioners begin to appreciate their strengths and abilities, which fosters a positive attitude toward themselves. The gradual improvement of strength, flexibility, and coordination provides individuals with a sense of accomplishment and a sense of confidence in their physical abilities.
Balanced Body Reshaping
Furthermore, Pilates on the reformer helps reshape the body in a balanced and proportionate manner. The exercises target not only the superficial muscles but also the deep stabilizing muscles, resulting in toned and sculpted body structures. Pilates on a reformer emphasizes functional movement patterns and body alignment as opposed to other forms of exercise that are primarily geared toward aesthetics or weight loss. Rather than focusing solely on appearance, this holistic approach encourages individuals to appreciate their bodies for their functionality and strength.
Mindfulness and Inner Peace
Moreover, Pilates on a reformer promotes a positive mindset and reduces stress. As a result of the mindful nature of the exercises, coupled with the rhythmic breathing patterns, individuals can disconnect from negative thoughts and concentrate on the present moment, creating a meditative experience. As individuals learn to embrace their bodies and let go of self-critical judgments, this mental clarity and sense of calm contribute to improved self-esteem and body image.
Pilates on the Reformer offers numerous benefits for boosting self-confidence and improving body image. By cultivating self-acceptance, a healthier body image, and a positive mindset, individuals can transform their relationship with their bodies, cultivating body awareness, balanced physical development, and a positive mental attitude. People can improve their physical fitness as well as their self-esteem and overall well-being through regular Pilates practice on the reformer.
Mindful Movement and Alignment
As well as its physical benefits, Pilates Reformer emphasizes mindful movement and alignment, which greatly enhances the overall experience and results. In this article, we will explore how Pilates Reformer enhances concentration and focus. As well as promoting effective movement patterns and body alignment, practitioners are also able to practice breathing techniques for relaxation and mental clarity.
Fostering concentration and focus during exercises.
Among the fundamental principles of Pilates is concentration. Pilates Reformer exercises encourage practitioners to develop an in-depth connection between their mind and body by emphasizing focused attention on movement and alignment. The Reformer's smooth gliding carriage and adjustable springs provide resistance that requires constant muscle engagement, which demands concentration throughout the workout.
To perform Pilates Reformer exercises effectively, individuals must pay attention to body positioning, carriage movement, and muscle activation. By utilizing this enhanced awareness, practitioners can isolate and engage targeted muscles more effectively, resulting in more effective workouts. As Pilates Reformer exercises require concentration, participants cultivate mental focus, reduce distractions, and cultivate mindfulness by cultivating mental focus.
Promoting Efficient Movement Patterns and Body Alignment
A significant benefit Pilates Reformer uses is its ability to promote efficient movement patterns and body alignment. Its design encourages practitioners to move precisely and controllably, reducing unnecessary stress as well as strain. By adjusting the resistance to an individual's level, the adjustable springs allow for gradual progression and allow the development of proper movement mechanics.
The Reformer's carriage, footbar, straps, and other attachments provide support and feedback, enabling practitioners to find optimal alignment. As they perform various exercises, individuals become more aware of their bodies' positioning, posture, and movement patterns. This increased body awareness corrects imbalances, improves posture, and enhances overall movement efficiency. By consistently practicing on the Pilates Reformer, individuals can develop better alignment habits that carry over into their daily lives. This reduces injury risk and enhances functional movement.
Practicing breathing techniques for relaxation and mental clarity
Besides concentration and alignment of movements, Pilates Reformers also provide the opportunity to practice breathing techniques that promote mental clarity and relaxation. Pilates' creator, Joseph Pilates, stressed the importance of breathing control during exercises. The use of proper breathing patterns, such as lateral thoracic breathing, assists in the activation of deep core muscles, the improvement of oxygen flow, and the release of tension.
As practitioners coordinate their breath with each movement, they experience a sense of relaxation and focus. As a result of the Reformer's exercises, movements and breath are synchronized, creating a rhythmic flow. Pilates Reformer workouts typically utilize deep diaphragmatic breathing to reduce stress, calm the nervous system, and improve mental clarity. Controlled breathing techniques learned on the Reformer can be applied in a variety of situations in daily life, helping individuals manage stress and enhance their overall health and well-being.
Who Can Benefit from a Pilates Reformer?
Pilates Reformers offer numerous advantages and can be beneficial for a wide variety of individuals. Let's look at who may benefit from these devices.
Beginners:
The Pilates Reformer is an excellent choice for beginners who are new to Pilates or exercise in general. It provides stability and support, making it easier to learn and perform exercises correctly. Beginners can begin with lighter resistance and gradually increase it as their strength and confidence improve as a result of the adjustable springs.
Athletes:
Pilates Reformers can be beneficial to athletes of all levels. The Reformer improves core strength, flexibility, and balance. These attributes are critical to enhancing performance and preventing injury. Athletes who engage in explosive movements, such as sprinting, jumping, or throwing, may benefit from this training the most.
Individuals with Physical Limitations:
Due to its low-impact nature, the Pilates Reformer is ideal for individuals with physical limitations and those recovering from injuries. Individuals can customize their workouts based on their specific needs and abilities by adjusting the resistance and the support provided by the Reformer. In addition to improving flexibility, Pilates promotes proper alignment and strengthens muscles without placing excessive strain on the joints.
Older Adults:
Pilates on the Reformer is an excellent option for older adults who wish to maintain or improve their fitness. To prevent falls and maintain an active lifestyle, we must focus on strength, balance, and flexibility as we age. In addition to improving mobility, posture, and stability, the Reformer provides a safe and effective method of working on these aspects.
Individuals with Postural Issues:
Poor posture is a common problem in today's sedentary lifestyle. Pilates Reformer can be extremely beneficial for individuals with postural issues, as it helps strengthen the core muscles necessary to maintain proper alignment. Pilates on the Reformer is a form of exercise that corrects imbalances, improves posture, and alleviates associated discomfort by targeting the deep stabilizing muscles.
Fitness Enthusiasts:
Pilates on the Reformer makes a great addition to the workout regimen of fitness enthusiasts looking to challenge themselves and add variety to their routines. The resistance provided by the springs uniquely engages the muscles, increasing strength, endurance, and muscle tone. In addition to offering a wide range of exercises that target different muscle groups, the Reformer offers a complete body workout that is well-rounded and comprehensive.
Personalized Approach and Adaptability
Unlike many other workout routines, Pilates Reformer offers tailored workouts tailored to individual needs and fitness levels. Pilates Reformer is known for its personalized approach and adaptability. By incorporating this flexibility, practitioners can modify exercises to accommodate specific limitations and conditions, while also progressively challenging and advancing their abilities. As we proceed, we will discuss the remarkable benefits of Pilates Reformer's personalized approach and adaptability.
1. Tailoring Workouts to Individual Needs and Fitness Levels:
One of the key aspects of Pilates Reformer is its emphasis on individualized workouts. Regardless of your fitness background or level of experience, an experienced Pilates instructor can tailor the exercises to suit your specific needs. By adopting this tailored approach, practitioners can work at their own pace and achieve their unique goals. Pilates Reformer helps individuals achieve optimal results safely and effectively by addressing factors such as strength, flexibility, and body alignment.
2. Modifying Exercises for Specific Limitations or Conditions:
Pilates Reformer's adaptability shines through when it comes to addressing limitations or conditions that individuals may have. Pilates Reformer can be adjusted to accommodate a variety of health concerns, including previous injuries, chronic pain, and physical limitations. Due to the variety of adjustable settings on the reformer machine, specific body parts can be modified to provide additional support or reduce strain. With the help of a qualified Pilates instructor, individuals can engage in Pilates exercises that are gentle on their bodies while still reaping the benefits of a challenging workout.
3. Progressing Gradually to Challenge and Advance Abilities:
Pilates Reformer encourages practitioners to progress gradually, creating a rewarding fitness journey that will last for a lifetime. Individuals can increase the intensity and difficulty of their workouts gradually through a series of controlled movements and resistance training. As individuals progress, the reformer machine's versatile design enables them to gradually increase the resistance, springs, and straps of the machine, challenging their strength and stamina as they progress. As a result of this gradual progression, not only are injuries prevented, but also continuously improved abilities are achieved over time.
Getting Started with Pilates Reformer
If you're considering embarking on a Pilates Reformer journey, you are in for a transformative experience that will enhance your strength, flexibility, and general well-being. Choosing a Pilates studio or certified instructor is essential to ensuring a successful start. You should also become familiar with the various classes available as well as the proper alignment, equipment setup, and safety measures to ensure a successful start.
1. Choosing a Reputable Pilates Studio or Certified Instructor:
To begin your Pilates Reformer journey, it is essential to find a reputable Pilates studio or instructor with the proper certifications and qualifications. Look for instructors who have completed comprehensive training programs and hold recognized certifications from reputable organizations. By reading reviews, seeking recommendations, and visiting studios in person, you can determine the quality of instruction as well as the overall atmosphere. During your training, a qualified and experienced instructor will ensure proper form and technique while maintaining a high level of safety.
2. Understanding the Different Class Formats and Options Available:
Pilates Reformer offers various class formats and options to cater to different preferences and goals. Some studios may offer private sessions, while others may offer small group classes. Private sessions are ideal for beginners as they offer personalized attention and allow instructors to focus on your specific needs and goals. Alternatively, small group classes promote a supportive environment in which you can benefit from others' experiences as well as learn from one another. It is important to select a class format that is comfortable for you and provides you with the attention you desire.
3. Tips for Proper Alignment, Equipment Setup, and Safety Measures:
To maximize the effectiveness of your workouts, alignment, equipment setup, and safety measures are paramount. Here are some tips you should keep in mind:
Alignment: When exercising, it is important to pay attention to your body alignment. Maintain a neutral spine, engage your core, and avoid overarching or rounding your back. Proper alignment promotes muscle engagement and prevents injuries.
Equipment Setup: Make sure you are familiar with the Reformer machine's components. Before beginning your workout, ensure the carriage moves smoothly and that all parts of the machine are secure. Learn how to adjust the springs, straps, and foot bar to accommodate your body size and range of motion.
Safety Measures: Keep an eye on your body and do not push yourself to the limit as you gain strength and familiarity with the exercises. Start with appropriate resistance and gradually increase it as you gain strength and experience. Please communicate any discomfort or pain to your instructor, and don't hesitate to inquire about appropriate techniques and modifications for specific limitations or conditions.
Conclusion
Throughout this discussion, we have explored the comprehensive benefits of Pilates Reformer, highlighting the ability of this device to enhance strength, flexibility, and overall well-being. To conclude, let me recap the key points, encourage you to embark on a Pilates journey, and emphasize the importance of consistent practice to achieve optimal results.
Recap of Comprehensive Benefits:
Pilates Reformer offers a multitude of benefits that extend far beyond physical fitness. In addition to improving core strength and flexibility, this method can also improve posture, improve body awareness, and enhance muscular balance. Pilates Reformer workouts can be tailored to your specific needs and goals due to their low-impact nature, making them suitable for individuals at all fitness levels. Additionally, Pilates Reformer promotes mental well-being by reducing stress and cultivating mindfulness.
Embarking on a Transformative Pilates Journey:
It is now time for you to embark on a transformative journey after learning about Pilates Reformer's remarkable benefits. The Pilates Reformer offers a variety of opportunities to develop your mind-body connection, build strength from within, and achieve a harmonious balance between mind and body, whether you are a beginner or an experienced practitioner. You must enter the journey with an open mind, a willingness to learn, and a commitment to personal development.
Commitment to Consistent Practice:
For Pilates Reformer exercises to truly be transformative, consistency is crucial. Regular practice is essential to reap the full benefits of this exercise method. Make sure you adhere to a realistic schedule that allows you to incorporate Pilates Reformer into your routine, even if it is just a few sessions per week. As you progress and see the positive changes in your body and mind, you will naturally become more motivated to continue. Don't give up on your practice. Stay committed to it, and you will unlock your full potential.