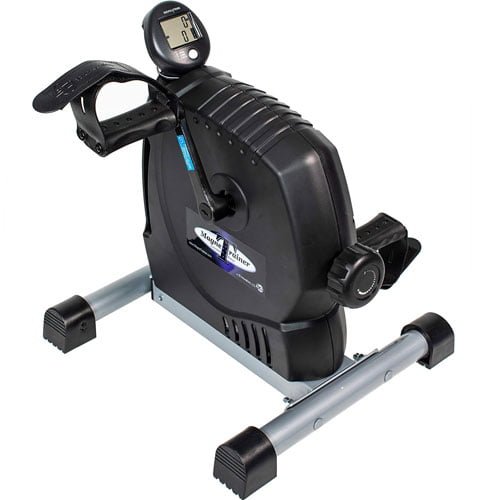 Staying healthy and fit is no longer a luxury but a necessity for a rich and fulfilling life. Fortunately for many today, there are loads of DIY training and fitness equipment on sale today. However, if you want to reach exceedingly high fitness levels or to nurse your cardiovascular system to health, what you need is one of the best upper body ergometers.
An ergometer is a training and rehabilitation device used for general exercise and physical training device. Beyond that, modern ergometers have advanced features you can use to track some of your cardiovascular functions, like your heart rate.
You can also use it to track your speed and even reduce resistance for an improved workout experience. Although some Ergometers focus on the upper body, some of the best brands can also be used for leg pedaling as well.
Our Top Pick: Hausse Portable Exercise Bike for arms and legs
We say this because the brand has a top-notch LCD screen, durable pedals, and overarching features that you can use to work on, not only your arms but your legs as well.
When we decided to draw up a list of the best upper body ergometers, we wanted only the best brands. This is because we understand the importance of strength training and getting your bodily system up to speed. Also, we understand that you may not know which brands represent good value for money in the market.
But do not worry, because we have done all the work for you. Here are some of the best upper body ergometers to build your upper muscles and strengthen your cardiovascular system.
MagneTrainer-ER Mini Exercise Bike Arm and Leg Exerciser
A Magnetrainer is a mini exercise bike for the training of your arms and your legs. This Ergometer has durable pedals to give your hands and feet comfort as you pedal away.
Magnetrainer is durable and your go-to device for building arms and legs muscles. The good thing about this Ergometer is that you can use it at any location in your home, gym, office, or wherever you feel comfortable engaging in physical exercise.
As we said before, the pedals provide you with a comfortable grip if you are pedaling with your arms. As for your feet, it goes with an adjustable strap that you can attach to your feet. Magnetrainer's Velcro straps are durable and adjustable regardless of your foot size.
Low noise
Another great feature you will like about Magentrainer is its low noise. Imagine pedaling away at frantic speed in one room, and people in the next room will not even know what you are doing.
That's how noise-free this Ergometer can be, which makes it one of the best options on the market.
It has a calorie tracker, magnetic resistance, and a wider resistance range, so no matter how stiff your muscles may be, you can flex them with Magentrainer's pedals with minimum fuss. Weighing just 29 pounds, you can also take it outdoors with you if you so please, but make sure you pack it in the carton or a safe box for outdoor trips to prevent scratches.
[su_row]
[su_column size="1/2″]
Pros
Silent whisper electromagnetic technology
The resistant knob is easy to adjust
Made with commercial-grade high-impact materials
Multi-purpose handles
Smooth operations
[/su_column]
[su_column size="1/2″]
Cons
It does not come with a stand
[/su_column]
[/su_row]
HCI Fitness Upper Body Physio Trainer Ergometer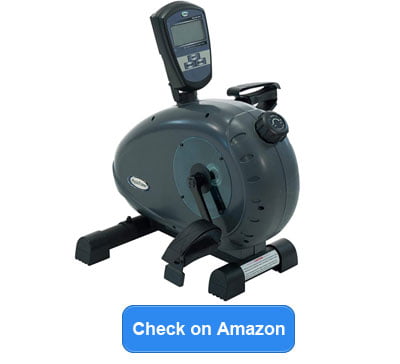 Another brand we believe you should add to your collection of fitness equipment is PhysioTrainer by HCI. This Ergometer is as good as they come, and we consider it to be one of the best ergometers in the market.
Affordable
HCI is affordable and durable, so you will actually be killing two birds with one stone if you go for this device. Why so? Simply because you will be paying a low price for a device that will stand the test of time and serve your fitness goals for many years to come.
HCI upper body ergometer has a large LCD display with bold lettering and alphabets. So as you sweat it out on the pedals, you can easily track your speed and other vital data without interrupting your workout session. The great thing about HCI PhysioTrainer is that you can use it to track your time, speed, pulse rate, and even your calories.
Having a tool that helps you keep track of so much is indeed a reliable device that every home should have. In addition, this PhysioTrainer by HCI uses a resistance knob that can be adjusted to up to 8 resistance levels.
To do so, all you have to do is to twist the knob by hand to your desired level, and you are good to go. In addition, HCI is compatible with UBE tables, and there are hydraulic and motorized versions of the Ergometer, depending on your preference.
If your sister is to improve your cardio health and strengthen your muscles, we implore you to buy a device to help you achieve these goals. HCI PhysioTrainer is a DIY device that makes home training easy.
[su_row]
[su_column size="1/2″]
Pros
Low noise ergometer
Useful for leg training as well
Not too heavy at 29 pounds
Sold with a one-year warranty
[/su_column]
[su_column size="1/2″]
Cons
Too many removable parts
Not the best for outdoor use
[/su_column]
[/su_row]
TherapyTrainer Upper Body Ergometer
TherapyTrainer is a mini handcycle specially designed to build your arm and chest muscles. The technology in this trainer guarantees a smooth performance just like you would expect from an exercise cycle. In addition, it has a premium magnetic resistance feature that allows you to pedal forward or backward.
TherapyTrainer also has much more resistance ranges compared to many other Ergometers of its ilk. You can adjust the resistance range in quick succession as you work your muscles, and if for any reason, one level proves difficult; you can always adjust it to a lower level.
This best upper body Ergometer is easy to use and doesn't make too much noise. With this device, you can also target specific arm muscles whose mass you wish to increase or strengthen. In addition, this durable on-the-spot trainer allows you to change your arm position at regular intervals to deliver the desired effect.
As for the three-grip handle, it has multi-ergo handles that provide a safe and comfortable grip. The handles will not harm your palms in any way, and you can also rest on the pedals even when you are not working out to catch your breath.
TherapyTrainer is your ideal Ergometer for building leg and arm muscles. It is highly recommended for individuals with grasping issues. Also, if you are recuperating from an operation and your doctor has recommended an upper body workout, TherapyTrainer is one brand you want to go for.
[su_row]
[su_column size="1/2″]
Pros
Multi-Grip Ergo Handle
Ideal for fitness and treatment therapy
Flexible pedals
White Affordable
[/su_column]
[su_column size="1/2″]
Cons
Limited color options
It may not fit all UBE tables
[/su_column]
[/su_row]
DeskCycle 2 Under Desk Exerciser
The last machine we want to review is by no means the least, but the best calf-raise machine on our list.
The DeskCycle 2 Under Desk Bike Pedal Exerciser has a magnetic resistance design, which makes it very quiet and easy to use. Unlike many other exercise devices, this one is very easy on the joints.
You can adjust the height for pedaling in a variety of spaces. It can be set to a height of 9 inches, allowing you to pedal under any desk up to 27 inches tall for users who are 5'10" or shorter. This lets you get in some exercise while you are getting work done.
High resistance
You'll be amazed at just how much resistance this miniature bike offers. It has a total of eight different settings to choose from. There is a knob that you can turn for the desired tension. This allows you to get the best possible workout while you are at home or in the office. You can set the power level you want quickly and easily.
We also really like the LCD display on this machine, which offers five unique functions. It will show your speed, calories burned, distance, and other information as you are pedaling. This display is very easy to read, and it gives you real-time results. It can track up to 10,000 minutes of activity.
Another great thing about this workout device is its quick and easy setup. It won't take very long at all for you to get it up and running right out of the box. It comes with easy-to-follow instructions.
Measuring 10.24 by 24.02 by 20.08 inches, this miniature pedal exerciser is very compact and doesn't take up much space. You can therefore use it in many different areas throughout your home. It is also easy to find a place when you aren't using it.
[su_row]
[su_column size="1/2″]
Pros
The LCD display is easy to read and provides valuable information
Designed for quiet operation so you never disturb others
Offers eight different levels of resistance
The compact design allows for easy storage
Adjustable height lets you work out in a variety of spaces
[/su_column]
[su_column size="1/2″]
Cons
Makes a slight creaking sound when used at high resistance
[/su_column]
[/su_row]
Recommendation: This device offers an outstanding cardio solution for seniors, office workers, and those who need physical therapy. It has an incredibly simple design that virtually anyone can use. The pedals on this bike are designed for maximum stability. This helps you get a consistent workout for the best and most noticeable health benefits.
Hausse Portable Mini Exercise Arms and Legs Peddler
Last but not least, in our review of the best upper body Ergometer is this one by Hausse. Remember that at the start of the review, we picked Hausse as our best upper body Ergometer of the lot? Well, we did so for a good reason.
First and foremost, this ergometer can best be described as a mini bike because it causes your arms and feet to feel the same kind of muscular tension you would ordinarily feel when you pedal a bicycle. As you work your muscles with Hausse, you relieve tension and improve blood circulation.
Hausse is a dual-purpose Ergometer because you can pedal it with your arm and leg, giving the muscles in your arms and limbs the same benefits.
This mini exercise tool is multifunctional, with a wide LCD display screen at the top. Through the screen, you can track your speed, distance, calories burnt, and other vitals. Furthermore, the screen has a red reset button that you can use to restart the system all over again.
Hausse has an extra strap for extra security and a rotating tension knob that is adjustable. Another fantastic feature we like is the flexible footband that you can adjust to fit your size. This feature alone makes it a family-sized Ergometer for everyone regardless of their frame size and age.
Lest we forget, Hausse has toothed foot slip pads to prevent accidental falls or slips. So, you can concentrate on your exercise anytime you use it without worrying about slipping.
[su_row]
[su_column size="1/2″]
Pros
Easy to adjust the resistance levels
Fully padded handles
Elastic and durable straps
Designed for a Customized training regime
[/su_column]
[su_column size="1/2″]
Cons
The LCD requires an AA battery to function
It may not be conducive for desks higher than 47 inches
[/su_column]
[/su_row]
Upper Body Ergometers: The Buying Guide
Now that we have reviewed some of the best upper body Ergometer you can go for, we wish to conclude this review with a buying guide. In this guide, we want to address the essential features to look out for when shopping for upper body Ergometers.
We know Ergometers are not the most popular fitness equipment in the market, so you may not know how to identify the best ones. Also, with so many sellers marketing their brands as the best, you may get confused and go for the wrong one.
To help you make the best decisions, here are some things to consider when shopping for an upper body Ergometer.
Dual Purpose Functions
Although this device is called an upper body ergometer, you should know that you can also use it to build your leg muscles as well. Most ergometers come with large Velcro straps and sturdy pedals. So while your main goal may be to build your arm muscles, you never can tell if your training regime may require leg muscle training in the future.
So, an Ergometer that can be used for both your arms and legs is the best and guarantees you value for money.
LCD Screen
Buying the best upper body ergometer with a large screen is a no-brainer. A large screen allows you to see your vitals clearly, unlike a model with a small screen. Furthermore, we recommend screens with a blue or green light as they are more visible during the day.
Tracking Features
While building your cardiovascular fitness should be your priority, the Ergometer you buy should also be able to track certain data as you work out.
Of course, the more data it can track, the better, so we recommend going for a model that can track your distance covered, cycling speed, calories burned, and most importantly, your heartbeat rate. With all these data ratings at your fingertips, you will be better informed about whether to increase your intensity or tone it down.
User-Friendly Features
The last thing you want is to buy equipment that is hard to use. This is why it's important to read the product description first before making a final purchase decision. Key features to check are the type of straps used. At the straps made of Velcro and adjustable? If yes, then it is ideal.
Also, consider the resistance levels of the ergometer. Ergometers with several tension adjustments are better because you can easily switch from one level to another if it proves too difficult.
Durability
More importantly, do not forget to check for the quality of the build materials. The best upper body Ergometers are made of durable plastic and premium steel for the pedals. Going for a durable material will ensure longevity.
Budget
Ergometers are priced differently depending on their features. While some may cost a few hundred dollars, others may cost several thousand. Bear in mind that the price will depend on the brand, high-tech features, and the quality of the build material.
Just make sure that you only go for a model that you can afford without downplaying the need for quality
Final Thoughts
Installing the best upper body Ergometer in your home is a good idea, especially if you lack time to visit your neighborhood gym often due to your busy work schedule. With this device, you can maintain peak cardiovascular health within the comfort of your home. In this review, we have highlighted some of the best models money can buy.
While they all offer value for money, the Hausse Portable Mini exercise pedal is considered the best because of its high-quality commercial-grade features, ease of use, and dual functionality. However, depending on your budget, any of the other four will suffice.
Read: Best Calf Raise Machine