When it comes to sculpting a strong and defined core, incorporating the right ab exerciser into your fitness routine can make a significant difference. Finding the best ab exerciser can be a challenging task with so many options available on the market today. We have assembled a list of top contenders that have demonstrated their effectiveness to assist you on your journey towards washboard abs. These ab exercisers offer a variety of features to suit a variety of fitness levels and preferences, ranging from traditional to innovative.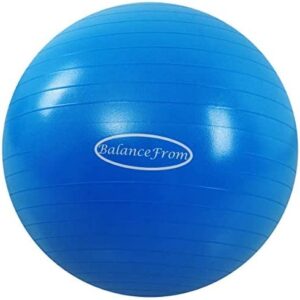 1. Stability Ball:
An exercise ball, or stability ball, is a versatile fitness tool that engages multiple muscle groups and improves core stability. We are going to explore the benefits of using a stability ball and how it can be incorporated into your workout routine for an effective total-body workout.
What is a Stability Ball?
A stability ball is a large, inflatable ball made of durable material, typically PVC. It comes in various sizes, ranging from 45 to 85 centimeters in diameter, to accommodate different user heights and fitness levels. Exercises with the ball require you to engage your core muscles and maintain balance.
Benefits of Using a Stability Ball
Core Strength and Stability: The instability of the stability ball forces your core muscles to work harder to maintain balance and stability. This results in improved core strength, including the abdominal muscles, back muscles, and pelvic floor muscles.
Posture Improvement: Regular use of a stability ball can help improve posture by strengthening the muscles that support the spine. Stability balls can reduce back pain by encouraging proper spinal alignment and engaging the core muscles.
Total Body Workout:  Stability balls can be used for exercises such as squats, lunges, push-ups, and planks, which target the core as well as other muscles.
Exercises with a Stability Ball
a) Stability Ball Crunches: Lie on the ball with your lower back supported and perform crunches, engaging your core muscles throughout the movement.
b) Stability Ball Squats: Stand with the stability ball against a wall, positioning it between your lower back and the wall. Perform squats by bending your knees and lowering your body, keeping the ball in place.
c)Stability Ball Push-Ups: Place your hands on the ball, with your body in a plank position. Perform push-ups while stabilizing your body on the ball, engaging the core, chest, and arm muscles.
2. Ab Wheel:
In the realm of fitness equipment, few tools rival the simplicity and effectiveness of the ab wheel. Because it targets and strengthens the core muscles, this compact device, often referred to as a "roller" or "roller wheel," has gained popularity among fitness enthusiasts and athletes alike. The purpose of this article is to explore the benefits of an ab wheel and how it can contribute to overall fitness.
What is an Ab Wheel?
The ab wheel is a simple yet ingenious device consisting of a small wheel with handles on either side. Its design allows for smooth rolling motions along the ground, making it an effective tool for engaging the core muscles during exercises.
Benefits of Using an Ab Wheel
The ab wheel offers numerous benefits for individuals seeking to enhance their core strength:
Core Muscle Activation:  A primary advantage of the ab wheel is its ability to target multiple core muscles simultaneously: rectus abdominis, obliques, and transverse abdominis.
Improved Stability and Balance: Regular use of the ab wheel challenges the body's balance and stability. As a result, the core muscles must work harder to maintain proper form. This leads to improved stability and balance in various physical activities.
Increased Functional Strength: The core muscles play a crucial role in supporting the spine and transferring power between the upper and lower body. Strengthening these muscles through ab wheel exercises can enhance overall functional strength. This, in turn, makes everyday movements more efficient and reduces injury risk.
Versatility and Convenience: The ab wheel is a versatile piece of equipment that can be used in various settings. It is lightweight, portable, and requires minimal space, making it a convenient choice for home workouts or travel.
Ab Wheel Exercises
Several exercises can be performed with an ab wheel to target different core muscles. These include:
a) Rollouts:  It involves kneeling on the floor, gripping the handles, and extending your body forward while engaging your core. Rollouts challenge the entire core and can be modified to suit different fitness levels.
b) Planks with Ab Wheel:  Putting the feet or knees on the ab wheel while assuming a plank position further challenges stability, increasing core muscle activity.
c) Standing Rollouts: This advanced variation involves performing rollouts while standing upright, requiring significant core strength and balance.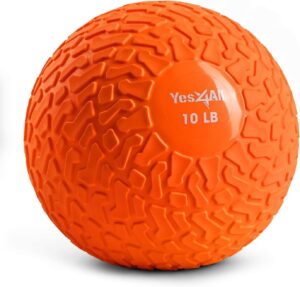 3. Medicine Ball:
The medicine ball is a versatile and dynamic fitness tool that has been used for centuries to enhance strength, power, and athletic performance. In the following, we explore the various ways a medicine ball can be utilized to improve your workout routine.
What is a Medicine Ball?
A medicine ball is a weighted ball typically filled with sand or a rubberized material. It comes in various weights, ranging from 2 to 30 pounds or more. This allows users to choose the appropriate resistance level for their fitness level and goals. The ball's size and weight make it suitable for a wide range of exercises and training techniques.
Benefits of Using a Medicine Ball
Strength and Power:  One of the best ab exercisers available is the medicine ball. By incorporating this versatile tool into your workouts, you can enhance your strength and power significantly. The resistance provided by the medicine ball forces you to exert force, resulting in improved muscular strength. Whether you're throwing, slamming, or swinging the ball, these explosive movements engage various muscle groups, making it an excellent choice for developing functional strength.
Core Stability and Balance: Many medicine ball exercises engage the core muscles to maintain stability and balance throughout the movements. This strengthens the abdominal muscles, obliques, and lower back, improving overall core stability.
Versatility: The medicine ball can be used for a variety of exercises, including throws, slams, twists, squats, lunges, and plyometric movements. It can be incorporated into individual or partner workouts, making it a versatile tool for many fitness enthusiasts.
Exercises with a Medicine Ball
a) Medicine Ball Slam:  Lift the ball overhead and forcefully slam it into the ground with your feet shoulder-width apart. This exercise engages the entire body, including the core and upper body.
b) Russian Twist: Sit on the floor, knees bent, holding the medicine ball with both hands. Lean back slightly and twist your torso from side to side, touching the ball to the floor on each side. This exercise targets the obliques and improves rotational strength.
c) Squat and Overhead Press: Hold the medicine ball at chest level, perform a squat, and as you rise, press the ball overhead. This exercise targets the lower body, shoulders, and arms, improving overall strength and power.
4. Plank Board: 
The plank board is a highly versatile fitness tool that has recently gained immense popularity. It is a simple yet effective exercise tool. It primarily targets the core muscles, while also engaging the upper body and lower body muscles. Now let's explore the benefits of the plank board and how it can enhance core strength and stability.
What is a Plank Board?
The plank board is a compact, rectangular-shaped fitness device made of sturdy material such as wood, plastic, or foam. It features a flat surface that provides stability and grip during exercises. It typically comes in various lengths and widths to accommodate different body sizes and fitness levels. 
Benefits of Using a Plank Board
Core Strength: Plank exercises performed on the board engage the deep core muscles, including the rectus abdominis, transverse abdominis, and obliques. This helps to strengthen the core, leading to improved posture, stability, and reduced lower back pain. 
Stability and Balance: The plank board challenges your balance and stability, as it requires you to maintain a neutral spine and a steady position. This enhances proprioception and overall body control, which can benefit athletes, fitness enthusiasts, and individuals recovering from injuries.
Full Body Engagement: While the primary focus of the plank board is on the core, it also engages other major muscle groups, including the shoulders, chest, arms, and legs. This makes it a time-efficient exercise tool that can provide a full-body workout in a short amount of time. 
Exercises with a Plank Board
a) Basic Plank: Place your forearms on the board and extend your legs, keeping your body in a straight line. Hold this position for a set duration, gradually increasing the time as your strength improves. 
b) Side Plank: Rest on one forearm, with the side of your foot on the board, and stack your legs on top of each other. Lift your hips off the ground, creating a straight line from head to toe. 
c) Plank Variations: Explore different plank variations, such as plank jacks, mountain climbers, and plank with leg lifts, to add variety and intensity to your workout routine.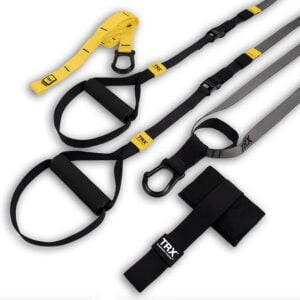 5. TRX Suspension Trainer:
The TRX Suspension Trainer, known as the best ab exerciser, is an exceptional and portable fitness tool that completely transforms bodyweight training. Crafted by a former Navy SEAL, this innovative device harnesses the power of gravity and your body weight to deliver an unparalleled workout experience. Suitable for individuals at any fitness level, the TRX Suspension Trainer guarantees remarkable results and is widely recognized as the ultimate ab exerciser.
What is the TRX Suspension Trainer?
The TRX Suspension Trainer is a system consisting of adjustable straps with handles or foot cradles attached to an anchor point. It allows users to perform a wide range of exercises using their body weight as resistance. The straps can be adjusted to various lengths to modify the intensity of each exercise.
Benefits of Using the TRX Suspension Trainer
Total Body Workout: The TRX Suspension Trainer engages multiple muscle groups simultaneously, providing a full-body workout. Whether you're targeting your upper body, lower body, or core, the suspended movements challenge your stability and strength.
Core Strength and Stability: Many TRX exercises require you to engage your core muscles to maintain balance and stability. This results in improved core strength and stability, leading to better posture and reduced risk of injuries.
Portability and Versatility: The TRX Suspension Trainer is lightweight and portable, making it an ideal fitness tool for use at home, in the gym, or even outdoors. It can be attached to a sturdy anchor point such as a door frame, tree, or overhead bar. Its versatility allows for a wide variety of exercises, accommodating users of different fitness levels.
Exercises with the TRX Suspension Trainer
a) TRX Squats: Stand facing the anchor point with the straps adjusted to waist height. Hold onto the handles, lean back, and perform squats, using the straps for stability and assistance.
b) TRX Rows: Adjust the straps to chest height, hold onto the handles, and walk your feet forward until your body is at an angle. Pull yourself up, engage your back muscles, and then slowly lower yourself back down.
c) TRX Pike: Start in a plank position with your feet in the foot cradles. Engage your core and lift your hips, bringing your body into an inverted V position. Lower back down with control.
Selecting the best ab exerciser depends on your preferences, fitness level, and goals. The stability ball, ab wheel, medicine ball, plank board, and TRX suspension trainer are all highly effective options that can help you strengthen and sculpt your abdominal muscles. Whether you prefer traditional equipment or innovative tools, incorporating these ab exercisers into your fitness routine will provide variety and challenge to keep your core workouts engaging and effective. Remember, consistency and proper form are crucial to achieving your desired results. So, choose the ab exerciser that resonates with you, and get ready to unveil a stronger, more defined core.